The nut butter jars sure are emptying fast in the notsoskinny household. This particular jar reminds me of my childhood, since my mom used to always buy Laura Scudders natural peanut butter. When you're raised on the real thing (as opposed to PB with added sugar etc.) why would you want to eat anything else?
last night: 1/2 cup oats, 1 tbsp chia seeds, kefir+water; this morning: cinnamon yogurt,
banana, granola sprinkle (after I ate some off the top!) and a big mug of coffee
Breakfast was a little delayed this morning. Lee and I went to the gym, where he ran on the treadmill and I swam. I knew I had a phone interview with a museum educator at 8:30 am so I cut my swim 5 laps short. I swam super hard for the 1,500 yds I did though! I barely made it home in time for my interview but it went really, really well. It looks like I scored another internship at a different museum! I'm sure going to have a busy fall!
The interview wasn't over till after 9 so I was glad breakfast was pre-prepped. I just boiled water for coffee and added banana+yogurt to my over night oats jar. Yum! When I make overnight oats I always think "there is nothing better than this breakfast. Why don't I make this all the time?" Then I go long periods without having it and forget what I'm missing. It's all about having the empty-ish nut butter jars around! I'm so glad I learned about this from KERF.
Now to travel back in time to last night's dinner: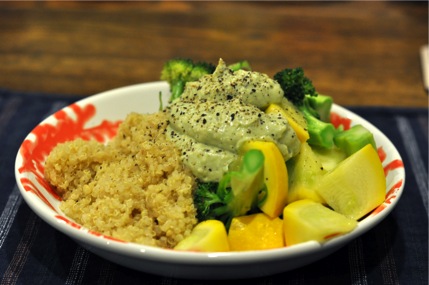 quinoa, steamed broccoli+summer squash, and avocado tofu sauce
I've stashed some avocado sauce recipes from several blogs, like these from Bake Your Day and Eats Well With Others. I wasn't in the recipe-following mood last night so I looked to those fabulous bloggers for inspiration while I whipped up my own creation.
Whipped is actually a great word to describe this sauce. I literally whipped the tofu and avocado together to make an incredibly light, creamy, green blob of goodness. The sauce came out thick and bursting with flavor despite it's pale color. I am so excited about the flavors I can play around with in future batches! Here's what went in this time:
Tofu Avocado Cream
1, 12 oz block silken tofu (such as Mori Nu)
1 medium or large ripe avocado, peeled and with the seed removed
1/3 cup lemon juice
1-2 garlic cloves, peeled and sliced
ground black pepper to taste
1 teaspoon dried basil (or fresh if you have it)
Combine all ingredients in a large bowl and blend thoroughly with a hand blender, or blend in a food processor or regular blender.
Serve over pasta, grains, vegetables…anything!
I used two cloves of garlic and my sauce was quite garlicky. I would use less next time. I served this at room temperature over hot food and it was perfect. If you want it to be hot you could blend it right in a saucepan or heat it in the microwave. I think this is going to be great leftover as a dip and I can't wait to try a version with Mexican flavors!
Think of the the fabulous nutritional oomph this stuff packs! There's a ton of protein from the tofu plus a generous amount of healthy fat from the avocado. I think I'll consider this creation a wonder-food.
Speaking of wonder foods, I'm off to Trader Joe's this afternoon. I need Sunflower butter so a trip to TJ's is in order!